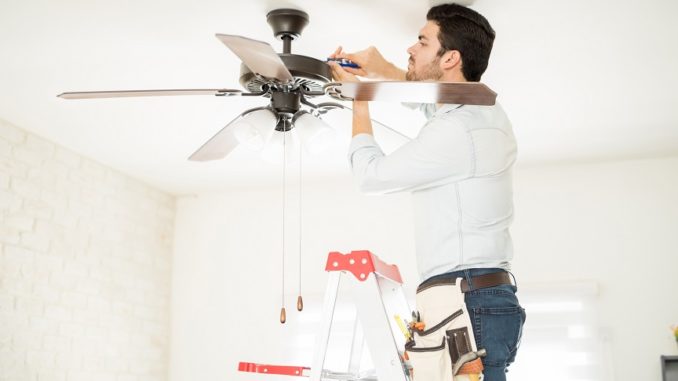 -by Amanda Jones (guest writer)
Summer is here, and it's a scorcher. Sure, you can run your A/C at full blast, but you'll crank up your electric bill too. So how can you beat the heat without relying solely on air conditioning? Installing ceiling fans is an excellent way to stay cool and comfortable, both indoors and outdoors.
In this quick guide, we'll go over the 5 features that are must-haves for good ceiling fans. You can follow our tips to find the fan that will be the best fit for your home and your needs.
1. Power
A fan's power is determined by its motor and the span of its blades. Usually, the wider the blades, the more powerful the motor must be.
When considering the power of a ceiling fan, you need to think about your room's size. Smaller rooms will require less power than larger rooms. For example, in a room less than 80 square feet with a short ceiling (8'), you can get away with a flush-mounted fan that has a 32″ blade diameter. This will bring plenty of cooling power to the space.
But what how do you know what to pick for larger areas? Here are guidelines you can follow to find the blade span appropriate for your room size:
Rooms less than 144 square feet –  42" or less
Rooms 144 to 225 square feet –  44" – 55"
Rooms 225 to 400 square feet –  Over 50"
Rooms over 400 square feet –  Over 62" (multiple fans may be required)
Here are some great examples of various sizes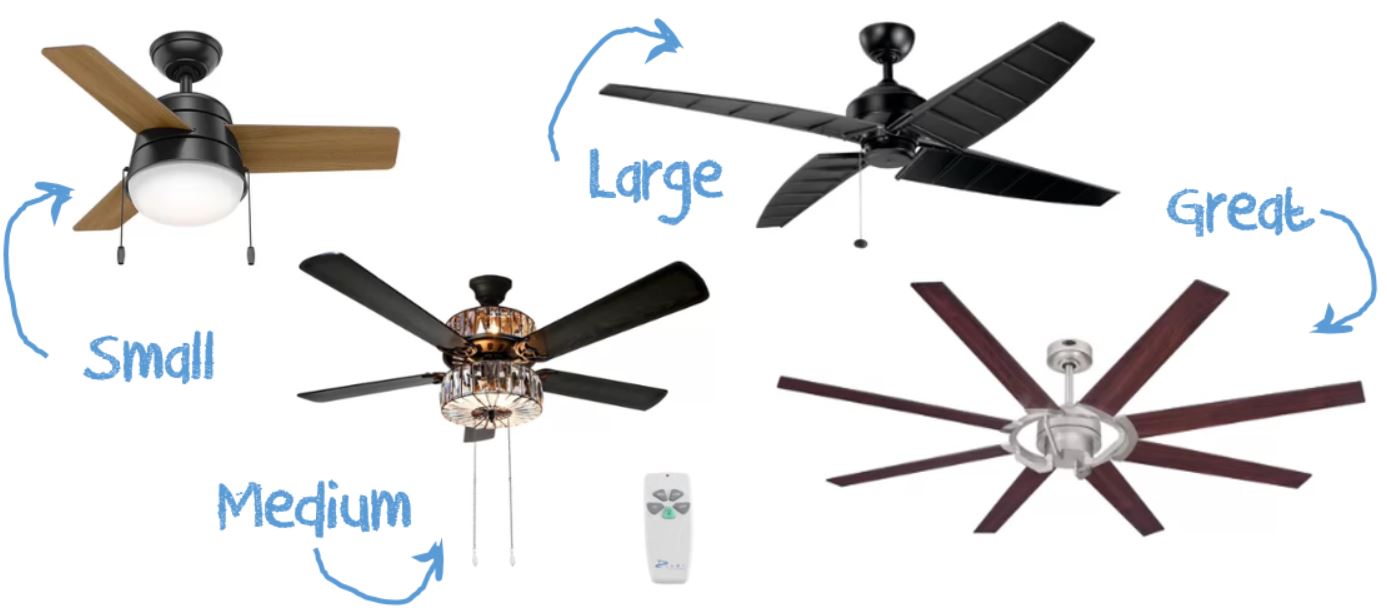 Buy It Now [from Left to Right]:
Hunter Fan 36″ Aker 3 Blade Ceiling Fan & Light – $99.99, Orren Ellis 52″ Njie Caged Crystal 5 Blade Ceiling Fan w/Light & Remote – $188.99, Highland Dunes 60″ Outlook 4 Blade Ceiling Fan – $294.99, Orren Ellis 68″ Ennis 8 Blade Ceiling Fan w/Remote – $356.99
2. Quality
You know the old adage: you get what you pay for. It's often worth spending a little extra cash to buy a fan from a trusted, well-known brand. These names tend to deliver high quality workmanship that can be relied on – which will be a relief on those hot days when the last thing you need is for your fan to be on the fritz. Hunter, Emerson, Minka-Aire, and Savoy House are a few popular brands that have a reputation for quality.
A fan's quality can often be assessed by looking at the little details. Did the manufacturer go the extra mile to ensure the fan operates well? For example, fans built with a heavy metal enclosure will produce less noise. Fans that sport high-end motors with sealed and lubricated ball bearings will require less maintenance: you won't need to add oil often to prevent squeaks, or worry about having to remove built-up dust from the motor.
3. Design
Fans aren't just functional, they are part of your decor. A perfectly matching fan can uplift your room's design. On the other hand, a poorly-matching fan can disrupt the aesthetic. Before you look at fans, take a moment to think about your room's style. Is it traditional, modern, eclectic?
Evaluating your room's look first will help you start your search in the right direction. For example, if you have a room that features a modern industrial design, you can narrow your search to sleek fans with bold metal elements and dark colors. If your space has more of a shabby chic style, zone in on fans in pale colors, or with rustic textures like weathered wood and antiqued hardware.
Here are just a few examples of style options

Buy It Now [Left to Right]:
Minka Aire 58″ Artemis 3 Blade Ceiling Fan – $549.95, Laurel Foundry 60″ Froid Windmill 15 Blade Ceiling Fan – $1,050.00, Kichler 300118 Bentzen 52″ Ceiling Fan in White – $111.84, Fifth and Main Lighting Aspect 6-Light Ceiling Fan – $428.99, Joshua Marshal Vintage Steel Ceiling Fan – $349.00
4. Accessories
You can augment your fan with functional or decorative accessories. These can include ceiling medallions, custom blades, downrods, and even remote controls.
Fans should always be installed 8' above the floor, so higher ceilings need downrod-mounted fans to make up the difference in space. Decorative medallions can add inches to your fan's length, reducing the necessary length of the downrod.
If you have a ceiling higher than 12 feet, you should strongly consider a model with remote control and variable speed options, as a room that large will have many more temperature fluctuations, depending on time of day, season, and weather.
5. Lighting
Installing a ceiling fan gives you a great opportunity to add another light source to your room. Many ceiling fans already have lights built in, while others can have a light kit installed.
If you're purchasing from a lighting store, or directly from the fan's manufacturer, ask about what options are available and at what cost. When purchasing from a third party (Home Depot, Houzz, etc.), check online to see if the model number is compatible with any after-market lighting kits. And in cases where you've fallen in love with a fan that doesn't have lighting options, such as an artisan or antique piece, seek the help of a licensed electrician. They'll be able to evaluate whether or not a light fixture can be added.
Because it's complex and risky electrical work, it's best to leave lighting kit installations to the pros. While we at HomeTailer celebrate the home DIYer, we strongly caution against any wiring projects not done by a licensed professional.