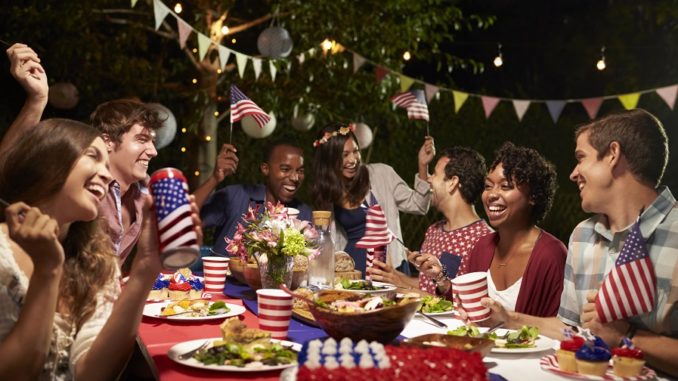 The Fourth is almost here and that means lots of friends and family getting together in the great outdoors. Are you hosting this year? If your front entry and/or backyard could use a little sprucing up, you're in luck because the HT team is here to give you some great inspirations. We've found some great and unique items to get your home in the patriotic spirit, all of them for under $100!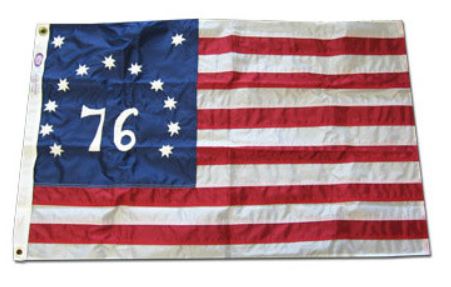 Bennington Flag  2'x3′ Nylon Flag – $35.00
There's no shortage of flags being flown on the Fourth, so why not choose something unique? The Bennington Flag is a version of the American Flag associated with the American Revolution Battle of Bennington, from which it derives its name. Like many Revolution era flags, the Bennington features 13 stars and 13 stripes, symbolic of the 13 American colonies that were in a state of rebellion against Great Britain. The Bennington version is easily identified by a large '76' in the canton, recalling the year 1776, when the Declaration of Independence was signed.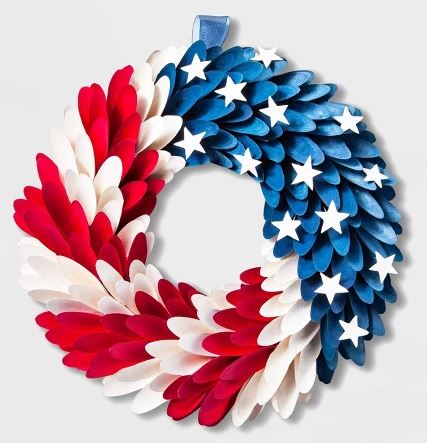 Lloyd & Hannah 17.8″ Patriotic Wood Shell Wreath – $24.99
Celebrate the 4th of July with this Americana curled wood wreath that features wood curls arranged in red, white and blue stripes with accent stars. Perfect for the front door, or as wall art for your back patio.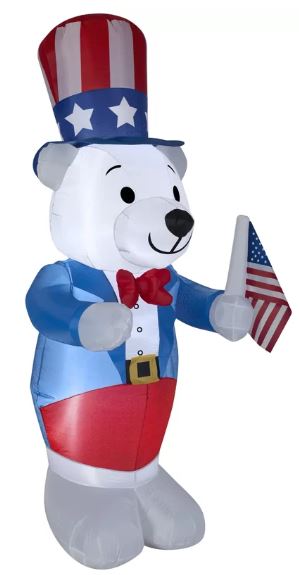 Air Blown 4th of July Bear Inflatable & Lighted Display – $48.99
At 6 feet tall, this friendly fellow is hard to miss, but easy to install. Most inflatables usually start at $100 but we were able to find this one for under half that. Enjoy!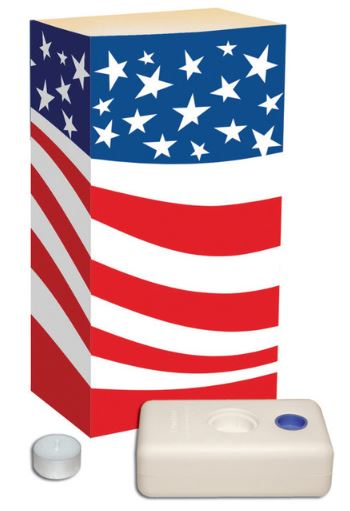 Americana Candle Luminaria Kit – $29.95
Luminarias are a great way to add a lot of holiday look for little cash. The paper bags and the LumaBases are flame resistant. The LumaBase is a water weighted base that will anchor the bag and hold the 4 hour tea light secure. For outdoor use only. Included: 12 Flame Resistant Paper Bags, 12 Tea Light Candles, 12 LumaBases.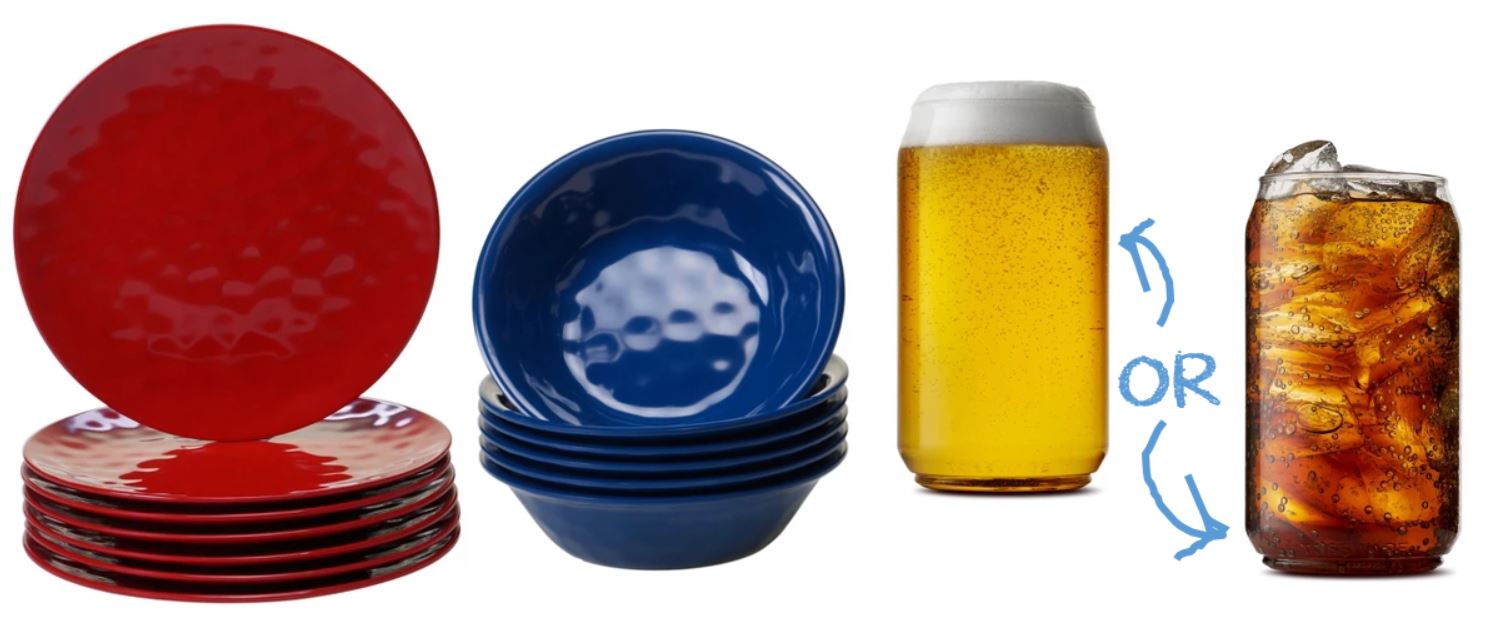 Certified International Solid Color Melamine Outdoor Dinner Plates 11″ Set of 6 – $39.99, Melamine Bowls 22oz Cobalt – Set of 6 – $31.99, TossWare 12oz Beer Can Plastic Glasses (set of 12) – $12.99
While paper plates and cups have their place, why not elevate your outdoor Fourth dining experience with dinnerware and drinkware that actually feel like the real thing? We found these three items, which combined are still under $100 and will give you a complete (and adult looking) table setting for 6. Plus the glasses are a 12 set which means each guest can have their libations and stay safe with plenty of water at the same time.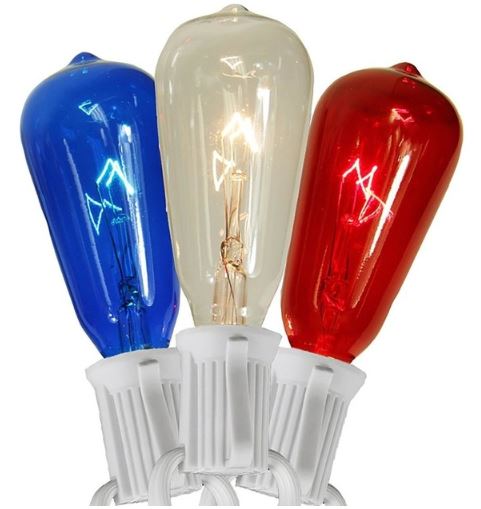 Set of 10 ST40 Edison-style Bulbs in Red, White & Blue – $22.39
If you're looking to upgrade from the twinkle light strings, these stylish Edison-style bulbs will give you plenty of patriotic spirit for very little cash.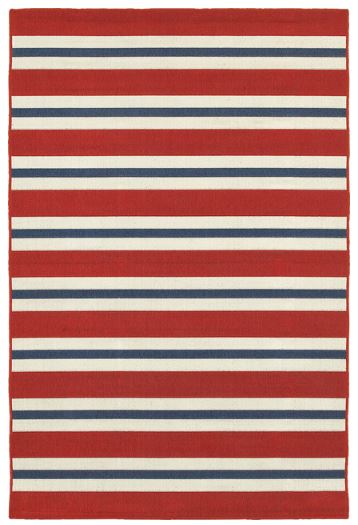 Weavers Meridian 5701R, Red/White/Blue Outdoor Rug, 3'7″x5'6″ – $69.00
Want a quick way to update your outdoor space, with a nod to the holiday, but stylish enough to use all year round? This R/W/B outdoor rug is a great way to add a big patriotic footprint without the big price tag.
We hope you enjoyed these unique and frugal finds. From the HomeTailer family to your family, we hope you have a fabulous, fun, and safe, Fourth of July!!