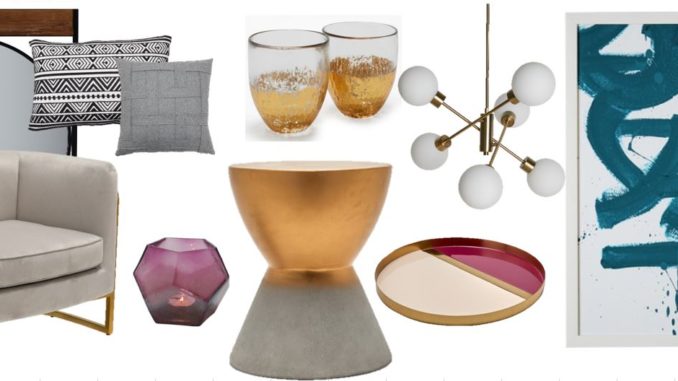 HT Home Editor: 
Spring is in the air, and with it comes our desire to spruce up our spaces. Looking for some interesting styles to try out? Or maybe just in need of a refresh on your current look?
Our HT team has been watching three trends – Glam, Minimal and Industrial. Each has its own unique voice, as well as some pretty hefty price tags. The good news is, we've been on the hunt and found several cool pieces that really capture these styles. The great news is, they won't cost you a fortune.
RETRO GLAM
Do you love the silhouettes and prints of the 60s and 70s  but with a modern take? Drawn to rich gold and brass metals? Love luxurious textures in sorbet mixes and art deco shapes and styles? Then you are most definitely Retro Glam. And if you are, you know the pieces you most covet in this style do not come inexpensively…or at least not until now. We found these fantastically decadent pieces at equally fantastic prices.

Buy It Here:
[Top Left to Right]
MoDRN Glam Geo 12 Piece Porcelain Dinnerware Set $75.00, MoDRN Glam 6 Light Chandelier Antique Brass $199.00, MoDRN Glam Multi Colored Decorative Tray $29.00, MoDRN Glam 4″ Speckled Gold Votive Set of 2 $12.00, MoDRN Glam Pink Color Block Wall Art $59.00
[Bottom Left to Right]
MoDRN Marni Barrel Accent Chair $349.00, MoDRN Glam Sculpted Faux Fur Throw $39.00, MoDRN Glam Gold Foil Oblong Decorative Throw Pillow 14″x 20″ $26.00, MoDRN Glam Geo Votive $16.00, MoDRN Retro Glam Round Faux Marble Outdoor Garden Stool $80.00
SCANDINAVIAN MINIMAL
Do clean lines and muted tones suit you best? Are natural textures your go-to cozy place? If you believe simple can be striking and well-made should also be functional, then you are most definitely Scandinavian Minimal. With a focus on creamy hues, complemented by warm woods and other natural textiles, this style allows you to freely express your love of the beautiful minimal design…at an equally minimal price!

Buy It Here:
[Top Left to Right]
MoDRN Scandinavian Pleated Linen Decorative Throw Pillow 20″x 20″ $29.00, MoDRN Scandinavian Plaid Felt Decorative Throw Pillow 20″ x 20″ $29.00, MoDRN Scandinavian Finna Low Profile Media Cabinet $449.00, MoDRN Scandinavian 7 Piece Bar Tool Set with Mango Wood Accents $60.00, MoDRN Scandinavian Downwards Blue Strokes Wall Art $69.00
[Bottom Left to Right]
MoDRN Scandinavian Henrik Lounge Chair $349.00, MoDRN Scandinavian Earthenware Planter with Wood Stand $45.00 – $79.00, MoDRN Scandinavian Wood Squares Statement Light $119.00, MoDRN Scandinavian 4 Piece Bowl Set $25.00, MoDRN Scandinavian Grasshopper Desk Lamp $49.00
REFINED INDUSTRIAL
Do you celebrate structural details and gravitate towards warm, dark metals? Are exposed materials your idea of adding excitement to a space? Refined Industrial isn't about rough and harsh, it's about interesting surfaces with natural details. If this sounds like the perfect starting point to any room, here's some beauties with plenty of visual style for less budget than you might think.

Buy It Here:
[Top Left to Right]
MoDRN Industrial Black and White Zig Zag Oblong Throw Pillow 14″x 20″ $31.00, MoDRN Industrial Cow Leather Decorative Throw Pillow 16″x 16″ $59.00, MoDRN Industrial Nesting Coffee Tables $299.00, MoDRN Industrial Metal Wall Mirror $69.00, MoDRN Geo Print Shower Curtain $25.00
[Bottom Left to Right]
MoDRN Sandpiper Upholstered Lounge Chair $399.00, MoDRN Industrial 7 Piece Serveware Bowl Set $40.00, MoDRN Refined Industrial Cement Garden Stool $80.00, MoDRN Industrial Desk Lamp $59.00