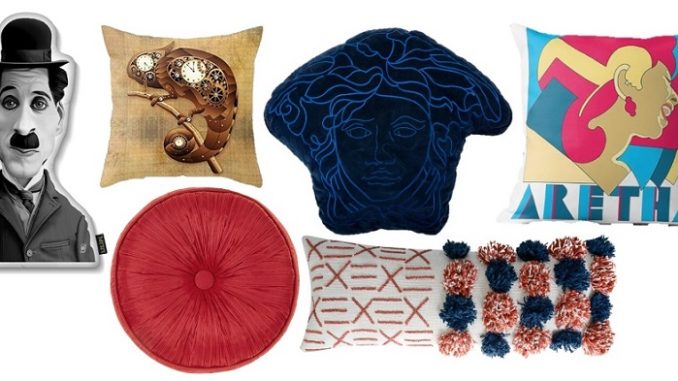 HT Décor Editor: 
Throw pillows are a great way to add a pop of color, pattern and/or texture to a room. But why stop there? Our editors have been eyeing some really cool fellows that not only give your room a boost, but can be a great way to showcase your personality to boot!
We've categorized these into groups, but there is absolutely no reason you can't mix and match here. In fact, that's all part of the fun…
ADD SOME SHINE – Nothing lights up a room like a little sparkle. All those metallics, jewels and sequins are like mini-reflectors, bouncing back the lighting you already have in your space. Add a little or a lot, depending on your comfort level.
Buy It Here: JustDoLife  Gold Metallic Pattern Pillow $7.89, Bahama Ruffle 16″ Round Throw Pillow by Thro $12.99, Oliver Gal Gallery Solid Kiss Copper Throw Pillow $14.97, Bebe Reversible Navy/Gold Sequin Square Throw Pillow $10.99, Missoni Metallic Throw Pillow $75.00
SUPER LUXE – This season in décor there is a big push towards textures. Throw pillows are a great way to experiment without fear of going too boudoir…or if that's the look you ARE going for, hey, have at it and pile on the luxe for much less cash than you'd spend on, say, that super-cool-but-way-outta-the-price-range sofa piece you've been eyeing.

Buy It Here: Round Ruched 14″ Wheel Throw Pillow $7.99, Quilted Velvet Throw Pillow – 18″ x 18″ $24.97, Touch Of Modern Arizona Sky Throw Pillow $59.00, Longwood Velvet Throw by Brayden Studio $83.99
Buy It Here: Hermès Beaded Toucan Silk Throw Pillow Orange $430.00, Versace Medusa Throw Pillow $125.00, Manolo Blahnik Throw Pillow $145.00, Kimberly McDonald Patterned Yellow Pillow $125.00
FUNK & PUNK – All things 80's are really having a moment right now including music, clothing and, you guessed it, décor as well. While some folks are going full on headstrong, others are using it for inspiration.
Buy It Here: Bunny Pico Throw Pillow by Fauna $31.99, Istanbul Skull Tee Throw Pillow by East Urban Home $33.99, Crack That Whip Pillow by LiLiPi $34.99, Jenning Deer in Leather Throw Pillow by Wrought Studio $35.99
Buy It Here: Pulp Fiction Throw Pillow by LiLiPi $38.99, Thro Felicia Flamingo Decorative Pillow $23.99, Morris Day and the Time Bandits $20.81, Jared Yamahata Haring – Schulz Illustration Art Pillow $50.99
POWER TO THE PEOPLE – Some do it playfully while others are using it as a way to show their love and respect for those figures, icons and artists who were rebels and dreamers in their own right.
Buy It Here: LiLiPi Easy-E Accent Throw Pillow $27.00, Wonder Woman Bracelet Throw Pillow by East Urban Home $35.99, David Bowie Alladin Sane Pillow by LiLiPi $35.99, Aretha Musica 306 $22.54
DOWNRIGHT QUIRKY – One of the more interesting trends we're seeing in décor is a new level of playfulness in designs.  Whether it's the Craft movement, Steampunk-y style fixtures (ala pipes & Edison bulbs, etc), or Quirky art, items that were usually reserved for wall art are now coming down and finding a new home on sofas, chairs and beds. And we, for one, are just loving it.
Buy It Here: Charlie Chaplin Throw Pillow by LiLiPi $32.99, Laura Hart Roboto Pillow $29.99, Laura Hart Llama Llama Cactus $29.99, Fornasetti Tema E Variazioni Throw Pillow $165.00, DEYOU Steampunk Chameleon Pillow Case $18.99, Covell Cotto Lumbar Pillow by Bungalow Rose $44.99